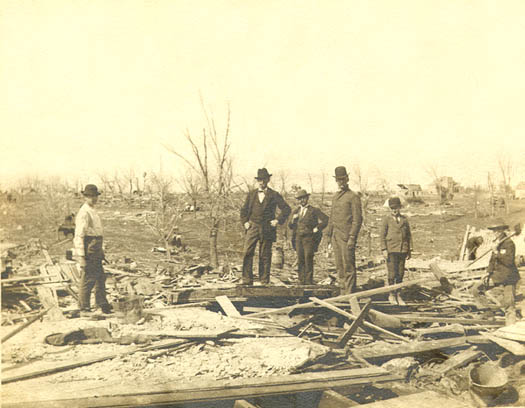 Shortly after 6:00 p.m., April 27, 1899, a cyclone traveled through Adair County, touching the ground just south of Kirksville and lifting again several miles northeast of town. It left a three block wide path of total destruction generally between Florence and Stanford Streets, from Patterson Street to just north of Illinois, as well as other damage throughout the city. Thirty-two people lost their lives that evening and hundreds of Kirksville citizens were injured.  The May 12, 1899 edition of "The Kirksville Weekly Graphic" estimated property damage at a minimum $125,000. Doctors from Macon and other near-by towns came to help local physicians treat the injured and over $24,000 in unsolicited donations came in from around the U.S. to aid those who lost their homes.
The first sighting was in the air near the lower iron bridge, about 12 miles southwest of Kirksville, shortly before 6:00 pm.
The first touch down happened near Troy Mills and destroyed the Lorton's barn and the Leech orchard.
The second touch down came a mile or so south of Kirksville, taking out the slaughter house in Wilcox's meadow and the residences of Otis Miller, Jr and Volney Johnson.
And, finally, on the crest of the hill south of town, it claimed Mr & Mrs Calvin Little as its first fatalities.