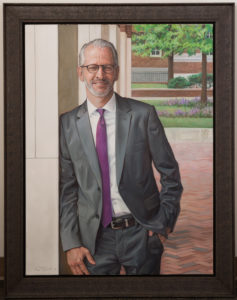 Troy D. Paino J.D., Ph.D.
Dr. Troy Paino began his duties as the sixteenth President of Truman State University on May 10, 2010, and served as the chief executive officer and principal spokesperson for the University. Prior to becoming President, Dr. Paino served since July 2008 as Truman's Provost and Vice President for Academic Affairs. In this leadership position he served as a senior member of the president's cabinet and as chief academic officer for the University.
Prior to arriving at Truman State University, Dr. Paino served as the Dean of the College of Liberal Arts at Winona State University (Minnesota) from 2004 to 2008. He began his career at Winona State University in 1997 as an Assistant Professor of History. He was promoted to the rank of Professor in 2007.
Dr. Paino received his Juris Doctorate from Indiana University Robert H. McKinney School of Law. Prior to arriving at Winona, he worked as a lawyer in Indianapolis. Dr. Paino received a Ph.D. and a Master of Arts degree in American Studies from Michigan State University and a Bachelor of Arts degree in history and philosophy from Evangel University in Springfield, Missouri. His teaching and scholarly interests included American higher education, 20th-century cultural and social history, and American legal history. He wrote extensively on the history of American sport, and in 2008 published his book, "The Social History of the United States: 1960s."
Dr. Paino served on the Board of Directors of the American Association of State Colleges and Universities (AASCU), and he was a member of the Association of American Colleges and Universities (AAC& U) Presidents' Trust for Liberal Education and America's Promise (LEAP). He was president-elect of the Council of Public Liberal Arts Colleges (COPLAC), and he served as treasurer of the Council on Public Higher Education in Missouri (COPHE). In addition, Dr. Paino served on the Girl Scouts of Eastern Missouri Board of Directors. Dr. Paino held the academic rank of Professor of History at Truman, and he was a member of Truman's Chapters of Beta Gamma Sigma, Phi Kappa Phi, Omicron Delta Kappa, National Society of Collegiate Scholars and National Residence Hall Honorary.
Dr. Paino and his wife, Kelly, resided in Kirksville and had two daughters, Sophia and Chloe. Kelly was an educator in Early Childhood and Elementary Education who served in the Kirksville R-III School District as a reading specialist. She was previously employed in the Houston Public Schools in Houston, Minnesota, where she coordinated an Early Childhood Family Education program, and the public school system in Lansing, Michigan, where she taught first and fourth grade. Kelly served on the Northeast Regional Medical Center Board of Trustees and the Northeast Missouri Food Bank (Adair County) Advisory Council.
Please Note: This biographical sketch has been compiled from secondary sources and may not be complete or totally accurate; it is therefore subject to update or correction.