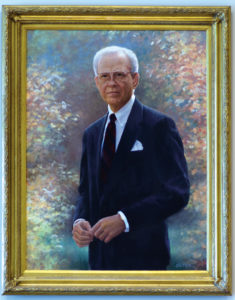 Interim President, 1989-1990
Head of the Division of Business and Accountancy
After serving more than two decades at Truman State University, Robert Dager, head of the Division of Business and Accountancy, announced his retirement, effective June 30, 1999.
Dager came to Truman in 1974 as an assistant professor of business. He was promoted to full professor and in 1977, was named head of the division. In 1989-90, he served as interim president of the University. During his tenure, Dager also served as acting head of the Division of Education, directed the John R. Kirk Honors Institute, and oversaw the University Career Center. He chaired the committee that planned the renovation of Truman's largest classroom facility, Violette Hall.
"The entire University community will miss the leader that Bob Dager provided. Under his supervision the University's business programs have achieved national recognition, while at the same time he saw to it that the Division maintained a liberal arts and sciences thrust," said President Jack Magruder.
Truman earned accreditation of its business administration and accounting programs by the AACSB, the international association for management education.
Outside of his University duties, Dager was greatly involved in service to the Kirksville community. He received the Kirksville Area Chamber of Commerce Hall of Fame Award in 1999. He was named Kiwanian of the Year in 1981 and Citizen of the Year in 1980. In addition, he served as president of the Kiwanis Club, vice president of Chariton Valley Association for Handicapped Citizens, director of Northeast Missouri State Band, and a board member of the United Way.
Dager left the University with many good memories.
"My 25 years at Truman have been great! The opportunities to make positive difference in education were many, and I tried to take advantage of each one," Dager said. "The personal and professional friendships developed over the years will be everlasting."
Please Note: This biographical sketch has been compiled from secondary sources and may not be complete or totally accurate; it is therefore subject to update or correction.