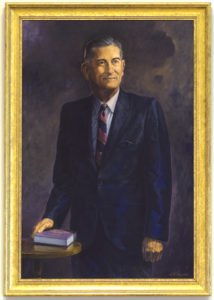 The brief tenure of F. Clark Elkins was marked with student unrest. Student protests throughout the country often centered around three central topics during the late 1960s and early 1970s: the authority of the administration, racial issues, and the war in Vietnam.
F. Clark Elkins became president of the teachers college in 1967 following the thirty-year tenure of Walter H. Ryle. President Elkins presided over the name change from a teachers college to a state college; he established a faculty salary schedule and successfully guided the university through a renewed accreditation process. His role as president was clearly one of transition to a comprehensive institution.
Dr. Elkins resigned July 1, 1969, and accepted a position in Arkansas State University at Jonesboro.
Elkins received a Bachelor of Arts degree at Arkansas State Teachers College in 1943, a Master of Arts degree at the University of Arkansas in 1948, and the Doctor of Social Science degree at Syracuse University in 1956.
Elkins taught high school in Scranton, Arkansas from 1945-1946, and he taught at Henderson State Teachers College from 1946-1961, advancing from instructor to professor. He became president of Chadron State College in Nebraska and served from 1961-1967. He then became president of Northeast Missouri State (Teachers) College after February 1, 1967. Elkins also served on various educational boards, mostly having to do with accreditation, and he sponsored an educational tour of Poland in 1963.
He was a member of Sigma Tau Gamma, Rotary, Phi Alpha Theta, Alpha Chi, Chi Eta Sigma, and Sigma Delta Nu. He has also contributed to the Arkansas Historical Quarterly.
F. Clark Elkins married Norma Trice of Roe, Arkansas, in 1946. They had one daughter, Annette.
Please Note: This biographical sketch has been compiled from secondary sources and may not be complete or totally accurate; it is therefore subject to update or correction.