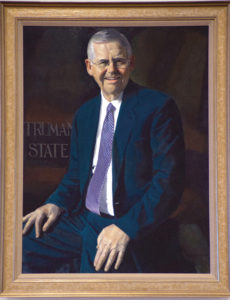 Dr. Darrell W. Krueger began his duties as the 15th president of Truman State University on October 16, 2008.
Dr. Krueger served as the 13th president of Winona State University from 1989 until his retirement in 2005. During his tenure as president, Krueger was nationally recognized for his work in outcomes assessment. Under his leadership, Winona State University became one of the most technologically advanced universities in the nation with one of the largest laptop university programs, supporting more than 8,000 laptop computers across campus. Under Dr. Krueger's leadership a comprehensive campus master plan was developed that included enhancement of campus green spaces, a new library that opened in 1999, and a state-of-the-art science laboratory center that was dedicated in fall 2004.
Before going to Winona, Dr. Krueger served for 16 years as the vice president for academic affairs and dean of instruction at Truman State University. For two years prior to that appointment he served as an assistant professor of political science at Truman.
Dr. Krueger graduated summa cum laude as co-valedictorian from Southern Utah State College in 1967, with a Bachelor of Arts degree in political science and history. He earned a master's degree in 1969 and a Ph.D. in 1971 from the University of Arizona-Tucson. Dr. Krueger was the 50th Woodrow Wilson Fellow to become a president, and he was a member of Phi Beta Kappa. Dr. Krueger and his wife Nancy had four children, two of whom graduated from Truman.
Please Note: This biographical sketch has been compiled from secondary sources and may not be complete or totally accurate; it is therefore subject to update or correction.