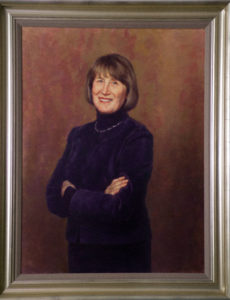 Barbara Dixon became the 14th and 1st woman president of Truman State University on July 1, 2003. President Dixon received a Bachelor of Music and a Master of Music in applied piano from Michigan State University, and a Doctor of Musical Arts in piano performance, literature, and pedagogy from the University of Colorado, Boulder.
Ms. Dixon began her professional life as a K-12 public school vocal music teacher, teaching nearly 600 elementary, junior high, and high school students each week in Capac, Michigan. After one year, she took a one semester temporary position as an instructor of piano at Central Michigan University that turned into a 27 year tenure at that institution. The first 18 years at Central (1970-1989) were spent as a faculty member in the School of Music where her teaching responsibilities included piano, piano pedagogy, and supervising the children's piano program. She was also an active clinician throughout the state and frequent performer both on and off the campus. During that time, Ms. Dixon was elected by her university wide colleagues to serve as the chair of the Academic Senate for the 1986-1987 academic year.
She began her formal administrative career at Central in 1989 as Associate Dean in the College of Arts and Sciences and served in that position for six years before being appointed Dean. In 1997 she was appointed Provost at Vice President for academic affairs at the State University of New York at Geneseo, a Public liberal arts university very similar to Truman. During those six years, she was active at the state level having been elected by her colleagues as Chair of the SUNY Chief Academic Officers Organization, and being appointed to Chair the statewide committee to oversee the review and compliance of the general education programs of the 64 SUNY campuses.
Throughout her career, Ms. Dixon worked persistently to advance the statuses of women and minorities especially in higher education. Upon her departure from Central Michigan University, she was recognized by the Affirmative Action Council with a special tribute for her longstanding contributions and extraordinary efforts. A strong advocate for civic engagement and social responsibility, Ms. Dixon worked with local Women's Aid and Domestic Violence, Community Arts Organizations, Hospice, Red Cross, Special Olympics, and the Lions Club hearing and sight impaired philanthropy.
Ms. Dixon served as an at-large representative of the National Collegiate Athletic Association (NCAA) Division II Presidents Council, and a member of the Peer Review Corps for the Higher Learning Commission of the North Central Accreditation Association. She was a past president of the Council of Public Liberal Arts Colleges (COPLAC) and the Council for Public Higher Education in Missouri (COPHE) an organization made up of the presidents of Missouri's 13 public four-year institutions.
Please Note: This biographical sketch has been compiled from secondary sources and may not be complete or totally accurate; it is therefore subject to update or correction.