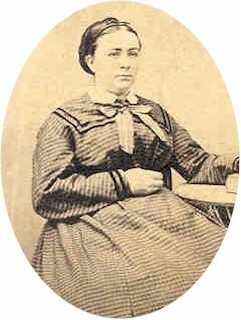 Amanda McDaniel, daughter of Gabriel and Martha (Riley) McDaniel, was born March 1834 in Kentucky. Her parents later moved to Palmyra, MO where she attended Mrs Burr's Seminary, graduating at age 16. She began her teaching career in New Franklin, then moved to Kirksville to conduct a school there. She met James Greenwood in Kirksville and they were married in 1859.
Amanda did not teach again until 1867 when Joseph Baldwin recruited both the Greenwoods for the faculty of the Normal School he was organizing in Kirksville. He hired Amanda as principal of the model school primary department and to teach botany and history in the normal division. She left to teach at Mount Pleasant College in Huntsville for six months, 1870-71, then returned to Baldwin's faculty until 1872.
When James took the position of Superintendent of the Kansas City Public School System in 1874, Amanda joined the faculty of Central High School for one year to teach English, botany and history. She then retired to raise their three children, Ada (Mrs WH) MacLaughlin, Victor H, and Jeanette "Nettie" (Mrs CA) Lewers. She died in Kansas City June 19, 1904.
Please Note: This biographical sketch has been compiled from secondary sources and may not be complete or totally accurate; it is therefore subject to update or correction.

Federal Census for Jackson Co, MO, 1900. Family Search Records Search Database. http://pilot.familysearch.org/recordsearch/start.html#start.
Ryle, Walter H. Centennial History of the Northeast Missouri State Teachers College. Kirksville: the College, 1972.
Selby, P.O. One Hundred Twenty-Three Biographies of Deceased Faculty Members. Kirksville: Northeast Missouri State Teachers College, 1962.