Life & Times of Fred Schwengel
Frederick Delbert Schwengel was born to Gerhardt and Margaret Schwengel in Franklin County Iowa on May 28, 1906. 
His early education was primarily rural; after attending a school in West Fork Township, Schwengel left home to further his education, eventually graduating  from Sheffield High School in 1926.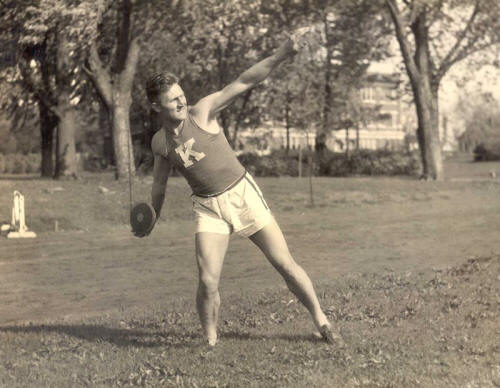 An alumnus from Northeast Missouri State Teachers College, Schwengel graduated from that institution on May 23, 1930 with a Bachelor of Science in Education.
While in college, Schwengel's actions were those indicative of a man who applauded a liberal arts education–in addition to regular coursework, he was active in numerous clubs and organizations, including:
Athletics: Track & Field, Football
Greek Life: Phi Sigma Epsilon (founding member), Interfraternity Council
Other Organizations: Blue Key, Student Council, Historical Society, Dramatic Club
Photographs during Schwengel's college years show a different spelling of his last name than what he used later in life; while this was an intentional change made by Schwengel, no one knows exactly why or when this change occurred.
In 1983, Schwengel was inducted into the Truman Athletics Hall of Fame for his contributions to those sports he participated in while a student.
Fred met Clara Ethel Cassity in college and they were married shortly after graduation on August 15, 1931.  A man who valued his family greatly, Schwengel had, at the time of his death, two children, five grandchildren, and one great-grandchild.
After graduation, Schwengel remained in Northeast Missouri for a period of approximately seven years, serving as an educator in northeast Missouri (1930-1937), first as an instructor of history, political science, and athletics coach in Shelbina, Mo. (1930-1932) and then as a coach and superintendent of physical education in the Kirksville Public Schools (1932-1937).
Returning to his native Iowa in 1937, Schwengel began work in the insurance business, eventually establishing a career with the American Mutual Life Insurance Company.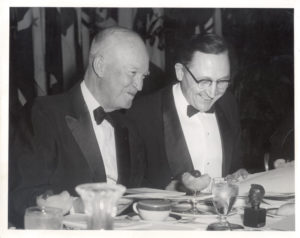 A strong Republican, Schwengel was first elected to the Iowa House of Representatives in 1945.  He was to serve five consecutive terms in this office (1945-1955), before being elected as a Representative in the U.S. Congress, a tenure which lasted eight terms (1955-1965; 1967-1973). 
Schwengel's general political philosophy is said to be thus: "I believe that moderation is a virtue–especially in a democracy of contending interests–and that extremism is a divisive vice … I have come to the conclusion that moderation is to be recommended above all political philosophies because it alone recognizes the common fate and aspiration of all human beings; it alone understands the influence that drive people to extremes; and finally, moderation alone respects the sacredness of humanity."
Championing education, civil rights, soil and conservation programs, and separation of church and state, Schwengel served on a variety of committees while an elected representative, including (in the Iowa House): School Textbook and Insurance Committees, Committee on Interstate Cooperation, Iowa Development Commission, and as a representative to the Council of State Governments.  In the US House of Representatives, Schwengel served on the Public Works Committee, District of Columbia and House Administration, Republican Task Force on Minority Staffing, and the Wednesday Group. 
To help honor Abraham Lincoln, Schwengel additionally served on the Lincoln Sesquicentennial Commission and the US Civil War Centennial Commission.
Service/Community Involvement
Mason (33rd Degree)
US Capitol Historical Society (Founder & President)
Republican Heritage Foundation (Founder & President)
Missouri National Guard (1929-1936)
First Baptist Church
Adair County MO Young Republican's Club
Junior Chamber of Commerce (President)
Boy Scouts of America
YMCA (Board Member)
Community Chest (Board Member)
Schwengel, Frederick.  100 Years of Masons in Davenport: History of the Blue Lodge in Davenport.  [S.I.]: Fred G. Edwards, [1953].
Schwengel, Frederick.  Lest We Forget: John J. Pershing, General of the Armies.  [Laclede, Mo.]: Pershing Park Memorial Association, 1977.
Schwengel, Frederick. The Republican Party: its heritage and history.  Washington, D.C.: Acropolis Books, 1987.

In addition to authoring several publications, Schwengel also supported many publications of the U.S. Capitol Historical Society, whose goal was to share the history of the US Capitol with its people:
Aikman, Lonnelle.  We the People: The Story of the United States Capitol.  Washington, D.C.: United States Capitol Historical Society, 1985.
Kennon, Donald R. and Richard Striner.  Washington, Past and Present.  Washington, D.C.: United States Capitol Historical Society, 1983.
U.S. Capitol Historical Society.  A Place of Resounding Deeds.  Washington, D.C.: The Society: Bishop & Associates, 1988.