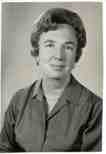 Virginia F. "Fran" (McCuistion) McKinney
Steno Office Supervisor, 1946-1951
International Student Advisor, 1965-1994
"Fran" McCuistion was the daughter of Columbus Holloway & Emma Winifred (Johnson) McCuistin and was born August 25, 1918 in Valley View, TX. She and Robert Logan McKinney, a young Army officer stationed at near-by Camp Howze, married May 1, 1943 in Gainesville, TX. They had two sons, Robert Logan Jr and Thomas Hal.
When Robert was released from active duty at the end of World War II, the couple moved to Kirksville, MO where he resumed his pre-war job at Northeast Missouri State Teachers College (now Truman State University). Fran joined the college staff as switchboard operator and supervisor of the stenographic office. She also worked for a time as a secretary in the Athletic Director's office. She resigned in 1951 to take on the job of career officer's wife when her husband was recalled to active duty by the Army. For the next 14 years, the family lived wherever Robert was stationed, most of the time in Washington, DC and Japan.
The McKinneys were assigned to Japan twice for a total of about eight years, an experience that would later prove to be of great benefit to Fran when Robert retired from the military and the family moved back to Kirksville in 1965. Fran returned to work at the college, this time as International Student Advisor, a position for which she was extremely well suited. She retired on December 31, 1995 after 30 years on the job.
Fran was active in Kirksville community life as a member of the Sojourners Club, PEO and the Monday Club. She was also a member of the Chamber of Commerce, which inducted her into its Hall of Fame in 1995. She died in Kirkville August 6, 2003 and was buried next to Robert at Fort Leavenworth National Cemetery in Kansas. A scholarship for outstanding international students was established in her honor that fall and in 2005 the building previously named for her husband was renamed to include her. It is now The Colonel & Mrs Robert L McKinney Center.
Please Note: This biographical sketch has been compiled from secondary sources and may not be complete or totally accurate; it is therefore subject to update or correction.
"International Student Advisor Retires". Northeast Review 7:1 (Winter 1995).
"Obituaries: Fran McKinney". Kirksville Daily Express. 8 Aug 2003.
Parker, Talva. "Northeast Loses Mainstays in International Student Office, SUB". The Index. 8 Dec 1994.