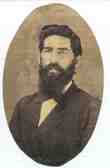 Instructor in Elocution, Logic, Bookkeeping & Math,
1868-1873
Member of the Board of Regents, 1899-1905;
Secretary of the Board, 1903-1907
Samuel Pickler, son of George and Emily (Martin) Pickler, was born November 6, 1846 in Washington County, IN and grew up in Davis County, IA. The family moved in Kirksville in 1866. He took some advanced courses at the North Missouri Normal School and Commercial College (now Truman State University) during its first year of operation and the following year joined the faculty as an assistant. He became a regular instructor when it became a state school in 1870.
After leaving the Normal, Pickler became an enterprising businessman and civic leader in Kirksville. He was owner/editor of the Kirksville Journal for eight years, 1873-81, during which time he also founded the Milan Republican in nearby Milan, MO. In the 1880s and 1890s he operated a highly successful mercantile store, Pickler's Famous, on the north side of the Kirksville square. From these ventures, he invested heavily in land, including rental properties in Kirksville, timber acreage in western Adair County and property in other states, including an oil-bearing tract in California.
Pickler held several elected positions: Adair County School Commissioner, 1875-77, Mayor of Kirksville, 1882-83, and Adair County Representative in the Missouri Legislature for four terms, 1877-79, 1897-99, 1899-1901, & 1911-13. He was nominated as Republican candidate for Congress in 1900 but did not win.
From 1899 through 1907, Picker served his former school on the Board of Regents, as a Board member for six years, 1899-1905, and as Secretary 1903-07. When Baldwin and Library Halls were destroyed by fire in 1924, he donated $25,000 toward replacing the library building. He later contributed additional funds to help furnish the building that had been named Pickler Memorial Library in his honor.
Sam Pickler and Mary "Mollie" Bowen married October 15, 1873 and had a daughter, Ethel (Mrs Frank P Young), and a son, Erle Kasson, who died at age twelve. The couple divorced in 1897 and Pickler married Ida Martin Fowler on June 13, 1898. He died March 12, 1929 and was buried at Forest Cemetery in Kirksville.
Please Note: This biographical sketch has been compiled from secondary sources and may not be complete or totally accurate; it is therefore subject to update or correction.
"End Comes to S.M. Pickler This Morning". The Kirksville Daily Express, 12 Mar 1929.
Selby, P.O. One Hundred Twenty-Three Biographies of Deceased Faculty Members. Kirksville: Northeast Missouri State Teachers College, 1962.
"S.M. Pickler Died After Long Illness". The Index, 14 Mar 1928.