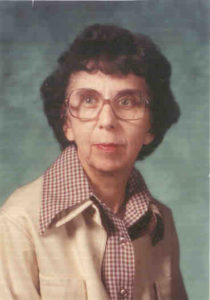 Ruth Warner Towne (19 June 1917- 3 Apr 1998), the daughter of Frank Warner & Mary Elizabeth (McCoy) Towne, was a native and life-long resident of Kirksville, MO. After graduating from Kirksville High School as Valedictorian of her class (1935), she earned a BS in Education from Northeast Missouri State Teachers College in 1939 followed by an MA in History from the University of Missouri in 1940. She then returned home to teach history at KHS. In 1951, she took a year off to complete the class work for a PhD in History at MU before joining the faculty at NMSTC in 1952. Her doctorate was awarded after she completed her dissertation in 1953.
Dr. Towne rose through the ranks to Professor of History at her alma mater and in 1983, was named Dean of Graduate Studies. She retired in 1988 as both Professor Emeritus and Dean Emeritus. In addition to her teaching, student advising and administrative duties, Dr Towne served as faculty advisor to Delta Zeta sorority for over 30 years and was a member of Lyceum Committee for almost that long. She was also her church's historian/archivist.
Towne's Papers were received from her Estate Administrator the summer following her death. They consist of both her home and campus office files and include family records dating from as early as the 1820s, her own personal and professional papers and correspondence, and some of the research for her dissertation and the books and articles she wrote over her long teaching career.