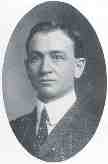 Professor of Physics & Chairman,
Division of Science, 1905-1925
Supervisor of Grounds, 1925-1946
James Stephen Stokes, the son of Henry Bright and Harriet (Weaver) Stokes, was born May 28, 1860 on an Ohio farm and died April 5, 1951 in Kirksville, MO. He was buried at Maple Hills Cemetery there.
James was raised in Cameron, MO and graduated from Cameron High School before enrolling as a science major at the University of Missouri. Around 1883, he headed a committee of physics students selected to design and install an electric light system in one of the campus buildings. These lights, with dynamo and other equipment donated by Thomas Alva Edison, were among the first, if not the very first, electric lights west of the Mississippi.
Stokes was awarded his Bachelor of Science degree in 1887 then taught for a year in a rural school. He moved to Macon, MO in the fall of 1888 to teach at St James (later Blees) Military Academy and the day after Christmas married Lula Walker, his high school sweetheart, back home in Cameron. In 1890, he became Superintendent of Schools at Columbia, MO and while in this position directed the creation of Columbia High School.
In 1894, Supt Stokes resigned from the city school system and enrolled full-time at the University of Missouri to complete the Master of Science he had begun earlier. He went from there to Harvard for an additional two years of graduate study, working as a graduate teaching assistant and night school instructor for the Cambridge schools. He returned to Missouri to teach physics at St Joseph High School, 1897-1905.
When he left St Joe, he moved to Kirksville to take on the first of his two careers at the First District Normal School (Northeast Missouri State Teachers College from 1919). From 1905 to 1925, he taught Geography and Physics and for most of those years was Chairman of the Science Division. He was, from all reports, an excellent and well-loved teacher, but he is perhaps better known for what he accomplished after he "retired" in 1925.
At the request of President Fair, Stokes immediately signed on again as Supervisor of Grounds. He was to oversee the landscaping and maintenance of the campus grounds and teach gardening, floriculture and astronomy. His most immediate chore was to do something with the raw, unsightly area left when the debris from the Baldwin Hall fire was removed. His solution was to design and plant a Sunken Garden in the depression that had been the basement of the building. He then undertook the engineering and design of a new football field, track and stadium on the grounds of the college farm just south of the main campus. With the help of student workers, he did all the surveying, grading, landscaping and other groundwork, then built the stadium. The first football games were played in the new Stokes Stadium October 1930. He retired again (and for good) in 1946 at age 84.
James and Lula had a family of three children, Stanley, Roland and Marian (Mrs CM Browning). Lula had two younger sisters, Nell Walker and Jo (Walker) Humphrey, who joined the Normal/Northeast faculty for several years in the 1910s.
Please Note: This biographical sketch has been compiled from secondary sources and may not be complete or totally accurate; it is therefore subject to update or correction.
"Proj. J.S. Stokes Dies at Home on April 5". The Index. April 12, 1951.
"Prof. J.S. Stokes Dies Here at 90; Funeral Sunday. Kirksville Daily Express. April 6, 1951.
Ryle, Walter H. Centennial History of the Northeast Missouri State Teachers College. Kirksville: the College, 1972.
Selby, P.O. One Hundred Twenty-Three Biographies of Deceased Faculty Members. Kirksville: Northeast Missouri State Teachers College, 1962.