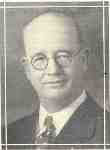 Member & Secretary, Board of Regents, 1909-1915
Campus Physician & Nursing Program Administrator, 1923-1931
Ezra Grim was born January 5, 1874 about 2 miles west of Kirksville, MO. He received his education in the Kirksville schools after his parents, George W & Anna (Weaver) Grim, moved into town in 1882. After graduating from Kirksville High School he entered the First District Normal School (now Truman State University) where he earned a Bachelor of Scientific Didactics as Valedictorian of the Class of 1895.
For the next two years, Ezra was Principal of the grade school in Brookfield, MO then left teaching to enter the Washington University School of Medicine in St Louis. After earning his MD in 1901, he interned at St Louis City Hospital, followed with a year as assistant surgeon at St John's Hospital and for United Railways. He returned home to Kirksville in 1903 to go into medical & surgical practice with his brother Edward.
In 1905, the brothers built their own office building, The Grim Building, just a block off the main square. They founded the Grim Brothers Hospital a few blocks away in 1909 and a year later, 1910, moved into a new building at Patterson & Franklin, just south of the Normal.
The partnership dissolved and the hospital was temporarily closed when Ezra joined US Army during World War I. He was a Captain in the Army Medical Corps, American Expeditionary Forces, from December 1917 till June 1919, serving in France a good portion of that time. He returned home after discharge to reopen his practice and hospital. When Dr ES Smith of Macon joined the practice in 1924, the hospital was renamed Grim-Smith.
In 1923, Dr Grim teamed with Northeast Missouri State Teachers College (formerly the Normal) and Barnes Hospital in St Louis to establish a nurse's training program at the College. He joined the faculty as Administrator and directed the program until he suffered a stroke in 1931 and had to cut back on work. He was able to continue as Chief Surgeon at the hospital until 1940 when his health finally forced him to retire. He died three years later, on May 26, 1943, and was buried at Highland Park Cemetery.
Dr Grim was a member of the American Medical Association and served on the Normal School's Board of Regents 1909-15. He was a founding member of the Kirksville Kiwanis Club, the Kirksville Chamber of Commerce and the MacDougall-Lowell Post of the American Legion, of which he was first Commander. He was also very active in various Masonic organizations.
Ezra and Dorothea Caroline Foncannon married December 29, 1903 and were the parents of five children: George Edward; Sarah, who was campus nurse & head of the Teachers College Nursing Program in the 1950-60s; Dorothea; Clarence; & John Henry, who died in his teens. 
Please Note: This biographical sketch has been compiled from secondary sources and may not be complete or totally accurate; it is therefore subject to update or correction.
"Dr. Ezra Grim, '95; Dies; Gave Grim Awards". The Index. 4 June 1943.
"Dr. Ezra Grim Dies After a Heart Attack". Kirksville Daily Express. 26 May 1943.
"Faculty 1923-24". Bulletin of the State Teachers College 23:6 (June 1923).
Selby, P.O. One Hundred Twenty-Three Biographies of Deceased Faculty Members. Kirksville: Northeast Missouri State Teachers College, 1962.
Selby, P.O., comp. Alumni Register. Kirksville: Northeast Missouri State Teachers College, 1924.
Service [Military] Record of Students of the State Normal School Kirksville, MO in the World War, 1917-19. Truman State University Archives.