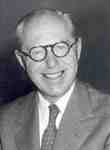 Basil Brewer, the son of Addison Lanius & Juliet Mitchell (Lanius) Brewer, was born July 22, 1883 near Rush Hill, Audrain County, Missouri. Rev Brewer, a minister of the Methodist Episcopal Church South, also ran a print shop where his son worked during his student days. After completing high school at age 16, Basil entered the First District Normal School (now Truman State University), Kirksville, and graduated in 1901 with a Bachelor of Scientific Didactics. The following year, he took some additional classes while working as an assistant in Professor James Weatherly's chemistry lab. It was during this time that he wrote the words to the Normal's first official school song.
After leaving Kirksville, Brewer taught high school science for a year then did graduate study at the University of Chicago. He began his life-long career in newspapers when he accepted a position with the Oklahoma Publishing Company in 1905. He remained with them three years before joining the Scripps-Howard newspaper chain in 1908. He began with Scripps as a "trouble-shooter" working throughout the organization, then was assigned the position of Business Manager of the Cincinnati Post, 1916-19, and the Cleveland Press, 1919-21. He left Scripps in 1921 to become the editor and publisher of the Omaha Bee and in 1924 purchased the Lansing Capital News where he took over as editor/publisher. He sold that paper in 1929 became an independent consultant for a year.
In 1931, Brewer purchased controlling interest in E Anthony & Sons, of New Bedford, MA, publisher of two newspapers, the New Bedford Standard and The Morning Mercury. Over the next 31 years, until his retirement in 1962, he directed operations as the company President & Treasurer. During this period, the Standard merged with the New Bedford Times to become the Standard-Times, the Mercury ceased publication and additional entities, including a paper in Hyannis, two radio stations, a TV station and a local airline, were added to the company's holdings.
Brewer was always active in local, state, national & international politics and charitable concerns and the list of honors and awards he received is almost endless. His papers won awards for youth programs such as the one created to provide educational and camp experiences for newspaper boys. The principal building at New Bedford Airport was named Basil Brewer Administration Building to honor his work in helping to keep the airport under city rather than federal control. He was a leader in Community Fund and Welfare Agency of New Bedford and was on the Boards of the Citizens Foreign Relations Committee, the United Cerebral Palsy Foundation, Robert A Taft Memorial Foundation, the Bay State Society of Cripple and Handicapped, Easter Seal Society, Taunton State Hospital and many similar organizations.
He won the Sigma Delta Chi reporting award and was the Massachusetts Chairman of Robert A Taft's 1952 presidential campaign. He was named Knight Officer of the Ancient and Most Noble Military Order for Christ, Portugal's highest civilian honor, by the Portuguese government and the Order of the Southern Cross by the government of Brazil for his work in promoting better understanding between those countries and the US. He was also presented honorary degrees from several colleges, including Bedford Institute of Textiles and Technology. Back in Missouri, a new dormitory built by his alma mater in 1958 was named Brewer Hall and his portrait, given by his family and dedicated in 1963, was hung in the building.
Basil and Jean Armor Given of Des Moines, IA were married February 20, 1913, in Sulphur Spring, OK. They had two children, Given Ankeny and Juliet, before the marriage ended in divorce a few years later. His second marriage was to Mary Minot Caswell of Huntington, IN. They married in her hometown on January 3, 1920 and also had two children, John Caswell and Alice Caswell. Basil died October 5, 1975 in Chatham, MA and is buried at the Riverside Cemetery in New Bedford.
Please Note: This biographical sketch has been compiled from secondary sources and may not be complete or totally accurate; it is therefore subject to update or correction.
"Basil Brewer Dies; Formerly of Kirksville". Kirksville Daily Express. 6 Oct 1975.
"Brewer, Basil". National Cyclopedia of American Biography. Vol 59. Clifton, NJ: James T White & Co., 1980.
"Distinguished Alumnus: Basil Brewer Honored by Alma Mater". Nemoscope 7:4 (Special Alumni Issue 1959).
Finding Aid to the Basil Brewer (1884-1975) Papers, Western Historical Manuscript Collection, State Historical Society of Missouri. http://www.umsystem.edu/whmc/invent/3132.html "In Memoriam: Basil Brewer 1901". Nemoscope 30:4 (Fall 1976).